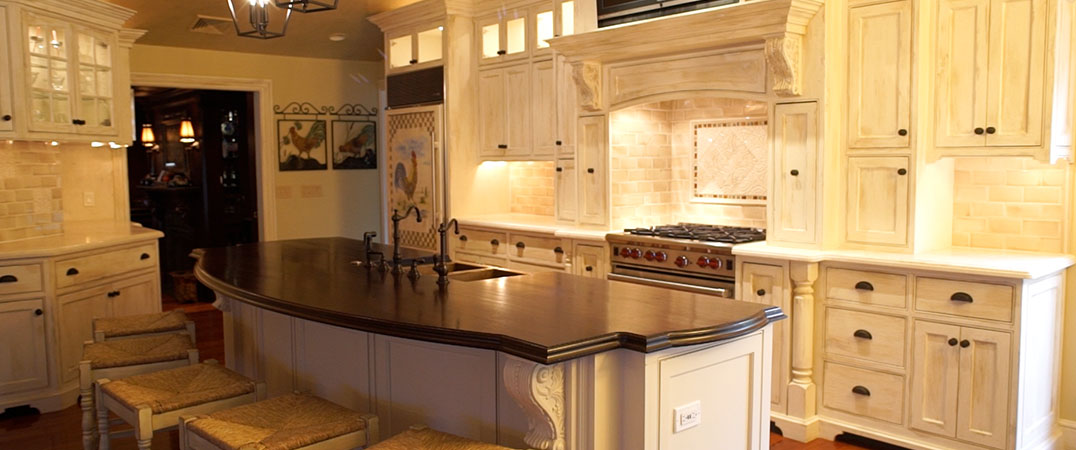 01 Nov

How to clean your custom cabinets

So, you've just installed those beautiful custom kitchen cabinets that you've always wanted. They look amazing. All your dreams have finally come true. But then, it's dinner time. And dinner time means messy time. The kids come running through the kitchen and just like that, your cabinets are no longer shiny and beautiful. Don't worry, there's hope. We've got some tips on how to keep that custom cabinetry looking like it's brand new, every day of the year.
Act Fast: Wipe up those spills as soon as possible so as not to let anything seep into the material. Also , always clean after cooking to make sure you get any drips or splashes that you may not have noticed.
Dust: Ideally you should dust once a week with a dry cloth. The grease and steam from cooking will cake the dust onto cabinet surfaces if you don't dust often enough.
Don't forget the inside: The stuff in your cabinets are likely to spill , so clean the inside of your cabinets every few weeks. It also might be a good idea to buy some good food storage containers if you are storing food in your cabinets, or buy some liners.
Use the right cleaner: We suggest Murphy's Oil Soap. It's been around for over 100 years,s o that's saying something! Use a soft cloth and rub it in gently to keep those cabinets shiny and new!

Fatal error: Uncaught ArgumentCountError: Too few arguments to function mikado_one_mikado_is_plugin_installed(), 0 passed in /home/customer/www/frankshatzcompany.com/public_html/wp-content/themes/mikado1/templates/blog/blog_single/blog_date_in_title_single-loop.php on line 441 and exactly 1 expected in /home/customer/www/frankshatzcompany.com/public_html/wp-content/themes/mikado1/includes/mkd-helper-functions.php:137 Stack trace: #0 /home/customer/www/frankshatzcompany.com/public_html/wp-content/themes/mikado1/templates/blog/blog_single/blog_date_in_title_single-loop.php(441): mikado_one_mikado_is_plugin_installed() #1 /home/customer/www/frankshatzcompany.com/public_html/wp-includes/template.php(792): require('/home/customer/...') #2 /home/customer/www/frankshatzcompany.com/public_html/wp-includes/template.php(725): load_template('/home/customer/...', false, Array) #3 /home/customer/www/frankshatzcompany.com/public_html/wp-includes/general-template.php(206): locate_template(Array, true, false, Array) #4 /home/customer/www in /home/customer/www/frankshatzcompany.com/public_html/wp-content/themes/mikado1/includes/mkd-helper-functions.php on line 137