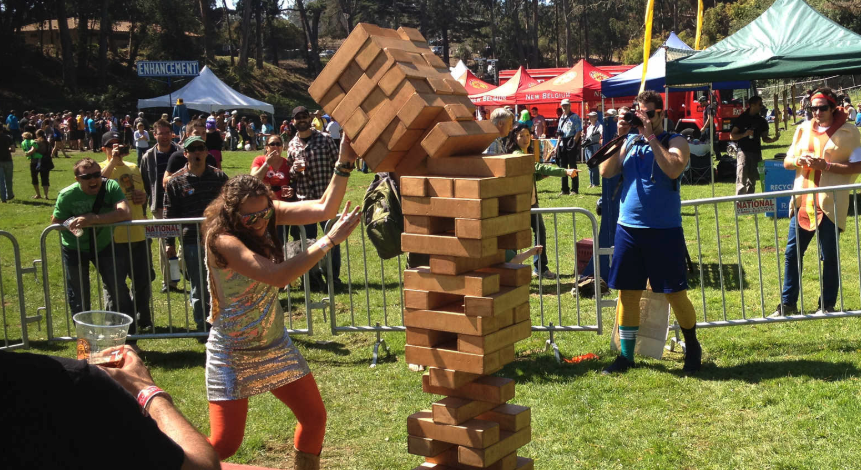 10 May

DIY – Summer Games

With summer around the corner we wanted to give you a few ideas on some DIY games you can create and play with your family & friends!

Dominoes

Why?

These are perfect for kids of all ages and you can use them to play multiple games such as Block, Cross, Muggins, Mexican Train and more! Dominoes are also perfect to play outdoors in the summer because they won't blow away like other games will!

What you need?

Supplies: 29 pieces of wood (1" wide x 2" tall x ¾" thick), Sandpaper, Paint, Ruler, and a pencil

How?

Steps:
Cut tiles (1" wide x 2" tall x ¾" thick)
With sandpaper smooth any rough edges
Measure (with ruler) the halfway mark on the domino and then use your pencil to draw a line across the tile
Now use the pencil to create dots on the tiles. You can use the picture below as a guide!
Now use your paint to cover the dots and the halfway line. Most people suggest using puff paint for this step.
Let all of the tiles dry and then enjoy!!
If you want more information click here to see the steps Elsie from A Beautiful Mess took when making hers! https://abeautifulmess.com/2011/05/diy-domino-set-from-aesthetic-outburst.html
Giant Jenga
Why?
This is a perfect game to play at your family & friend gatherings this summer! Everyone will love this giant twist of this classic game!
What you need?
3/4″ plywood 18″x18″
6 – 2″x4″ x 8′ pine boards to make 54, 10 1/2″ pieces
1 – 2″x" x 6′ pine board to make the sides for 18″x18″ plywood base
Sandpaper (120 to 180 grit)
Threaded Feet for base
15 Kreg Screws
Tools: Orbital Sander, Drill Kit, Miter/Circular Saw, Kreg Jig
How?
For steps on creating the Jenga pieces click the link below to see how DIY Pete's team created theirs!

Fatal error: Uncaught ArgumentCountError: Too few arguments to function mikado_one_mikado_is_plugin_installed(), 0 passed in /home/customer/www/frankshatzcompany.com/public_html/wp-content/themes/mikado1/templates/blog/blog_single/blog_date_in_title_single-loop.php on line 441 and exactly 1 expected in /home/customer/www/frankshatzcompany.com/public_html/wp-content/themes/mikado1/includes/mkd-helper-functions.php:137 Stack trace: #0 /home/customer/www/frankshatzcompany.com/public_html/wp-content/themes/mikado1/templates/blog/blog_single/blog_date_in_title_single-loop.php(441): mikado_one_mikado_is_plugin_installed() #1 /home/customer/www/frankshatzcompany.com/public_html/wp-includes/template.php(792): require('/home/customer/...') #2 /home/customer/www/frankshatzcompany.com/public_html/wp-includes/template.php(725): load_template('/home/customer/...', false, Array) #3 /home/customer/www/frankshatzcompany.com/public_html/wp-includes/general-template.php(206): locate_template(Array, true, false, Array) #4 /home/customer/www in /home/customer/www/frankshatzcompany.com/public_html/wp-content/themes/mikado1/includes/mkd-helper-functions.php on line 137